We're continuing to work through All About Reading Level 1, and we're still thoroughly enjoying it! Earlier this week, as I was pulling out the All About Reading bag, Alex said to me, "Yay! This is my FAVORITE part of the day!" How many kids say that about reading lessons? You KNOW you've got a good program when a 5 year old is that excited about it!
We are currently halfway through Lesson 12, working on 2 – 3 lessons per week. I've found that Alex can't sit still long enough to make it through an entire fluency page without getting overwhelmed, so we have fallen into a routine of doing the letter magnets, activity page, and half of a fluency lesson one day. On the following day, we'll flip through the word cards and then finish the fluency lesson. This way, he is getting all of the practice without getting too overwhelmed. (I'll have to snap a picture of the fluency page one of these days for any readers who don't know what I'm talking about.)
He *LOVES* when a lesson is completed because he gets to add a star to his chart. Alex has been making a pattern with the star stickers, very carefully choosing which color comes next. I love watching him think through what color will come next in his pattern.
He enjoys the activities! We play letter recognition Bingo using raisins as Bingo markers. We line up monkeys named 'Dot', 'Peg', and 'Ned', and then feed them bananas with words that rhyme with the monkey names.
Here's a quick video of Alex doing the monkey/banana reading game:
When we go through the green word cards, he loves to physically demonstrate any action words that he reads. Here, he's acting out 'run' and 'hop'. (That's not part of AAR; that's just what Alex has added in on his own.)
We love to curl up together on the couch while he reads to me from his reader. His favorite story is still "Jam", the first story in the reader. Alex thinks that is such a cute story, and he'll read it to anyone who asks
In this video, Alex is reading "Jam" to Daddy. I had to sneakily recorded this, as Alex did NOT want to be filmed while reading. (Excuse the distractions…I tried to keep extra kids out of the video, but it didn't work out very well! In fact, I ended the video early because Max was climbing my back!)

Keep in mind that he'd read this story three times previously; his first few readings were not so fluent!
He had fun with the Word Flipper book, laughing at some of the silly words. (These nonsense words are actually helpful, as they could be a syllable in the middle of a longer word.)
I can't praise All About Reading enough! It is obvious that a great deal of thought went into each aspect of this program. It has been designed to be thorough, fun, and easy for both parent and child.
If your child isn't quite ready for reading instruction yet, you may consider the Pre 1 level for a four year old. It's full of games, crafts, read-alouds, letter recognition, rhyming, syllable clapping, print awareness, listening comprehension, and more. You can click below for a free Ziggy ebook!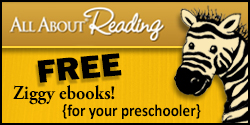 If your child already has a firm grasp on the skills covered in Level 1, you may wish to consider trying Level 2. (Level 3 is schedule to be available in Fall 2013, and Level 4 will be published in Fall 2014.)
If you're not sure which level is appropriate for your child, you might be interested in the Placement Tests available on All About Learning's website. Click on the words below to link to:
Level Pre 1 Placement Test -- Level 1 Placement Test -- Level 2 Placement Test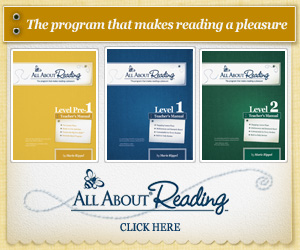 A reading program that can teach my child in such a way that he is EXCITED to practice reading, grins with anticipation when I pull out the magnet tiles, and jumps for joy when he finds out he gets to read me a story…well, it's a GREAT program!
All About Reading comes with a Go Ahead And Use It 1 Year Guarantee! If you try the program and you're not satisfied, you can get a full refund! Isn't that impressive? You can't go wrong…if you're just getting started in teaching your children, or if you haven't had success with other programs, I'd strongly encourage you to give All About Reading a try!