Alex was EXCITED about our theme when he found race car games on his shelves on Monday morning!  We really didn't do a lot this week, but he definitely enjoyed the things we found time to do!
This was his favorite – putting the colored circle on the correct race car.  We did this multiple times throughout the week, and he often pulled it out on his own throughout the day.  (There's a link to download this activity at the end of the post.)
We used velcro dots to hold the circles in place.  I should take stock in the Velcro company.  If you ever want to make me very happy, I'm easy to please - just buy me some sticky velcro circles! ;) 
This Alphabet Mystery game came from Home Grown Hearts printable activities.  We started doing it as suggested on the website, but it ended up hanging on our dishwasher as a "drive-by" activity.  (Leave it to Alex…)
Alex was SOOOO excited about this shape sorter that we found at a thrift store on Thursday.  (Okay, I'll confess that I was more than a little excited by it, too…) He needed a little guidance to get the pieces in place, but he took it very seriously.  We got it for ONE DOLLAR!  It's $18 on Amazon, so we got pretty lucky!
Both of Alex's grandparents gave him a race car card for Valentines Day, but Grandma & Grandpa S's happened to have punch-out race cars.  We made these on Friday, and Alex had fun driving them all over the kitchen table.  (I'd planned to make a toilet paper tube race car, but decided against it after remembering we had this.) 
This one isn't what I had in mind, but it was number practice.  Kick the number dice, giggle, and shout the number loudly.  Repeat.  (Lose dice under TV console, use a flashlight to find it, repeat some more.)
Melissa & Doug transportation sound puzzle
(a gift from Grandma P last year)
Alex didn't want to put magnets on this page.  He wanted to let his animal crackers take turns driving the race car instead.
"R" biscuits for dinner…   
Quite conveniently for our race car week, this was the toy in Alex's Happy Meal on Thursday…
This tent survived nine years in my second grade classroom.  It was a little reading nook for our silent reading times.  My students LOVED it!  Alex & I put it together outside on Friday morning, but it started raining…so we brought it in and had lots of giggles together in the tent!
BOOKS
The Wheels On The Race Car was checked out, but we enjoyed the other books from our local library.  The Berenstain Bears book is a rhyming story that really focuses on the COLORS of the cars.  Don't rush over to Amazon…the library is one of the best Tot School resources out there!  Even our small town's library gives us some great choices!
PRINTABLES
Here are the downloads, if you'd like, for the race car activities we did this week. (I don't intend to make my own activities every week, as there are SO MANY great resources online, but it's fun to do these in themes that Alex adores!) 
A few notes about the printables:
~ I don't like the size of the circles on the magnet page; they should be much smaller, but I haven't taken the time to fix it.  If you'd really like to use it, leave me a comment, and I'll make time to correct it.
~ The race car flags & numbers are meant to be a file folder game to match the number on the race cars with the numbers on the flag.  We made it, but I have no photos of it because Alex dumped it on the floor before I grabbed the camera.
Click the link below to see what other tots are doing this week. If not for all of these great links, we wouldn't have as much creativity in our own Tot School, so I *really* appreciate Carisa hosting this each week! Thanks, Carisa!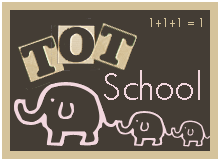 I'd also like to say a BIG thank you to everyone who visited, e-mailed, commented after popping over from the Totally Tots website. Thanks, Jolanthe, for featuring my little blog and for the kind words about Our Little Monkeys! You made my day!