As my regular readers may know, we are about halfway through our year with My Father's World Kindergarten curriculum. We should finish sometime in May. While I have some ideas in mind, we are still not 100% sure of our school plans after completing this program.

One thing is for sure, though: I definitely want to experience All About Reading! It's a program that caught my eye a few years back, and I have been anxiously waiting for the right time to get my hands on this program. We have it now, and as both a former elementary school teacher and as a mom, I am very impressed with what I see!
We've just received the AMAZING opportunity to review All About Reading Level 1. I had originally planned to purchase the program this spring to begin using it when Alex completed MFW K. Since All About Learning Press generously offered to send us Level 1 to use and review, we will begin in February and use it along with My Father's World kindergarten.
I'm so grateful to All About Learning Press for this generous offer, and I look forward to sharing our learning adventures with all of our readers through regular blog posts!
I have heard and read so many good things about All About Learning press, and I have followed a few homeschool friends and bloggers as they share positive reviews of All About Reading's pre-reading and Level 1 programs.
All About Reading is designed to be hands-on, using sight, sound, and touch to teach a child to read. All About Reading is also based on the Orton-Gillingham method, which is successful for teaching struggling readers and children with learning disabilities.
The website states the All About Reading is designed to be "open and go", easy for a busy mom to just sit down and work with her child. Everything is organized and 'lightly scripted'. As I've read through the manual and gotten things ready to go, I've found that to be quite true.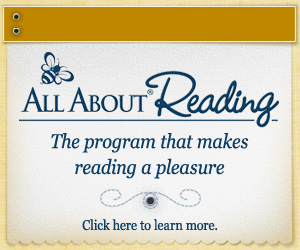 There are three levels available at this time: Pre-reading, Level 1, and Level 2. There are two more levels currently in the works: Level 3 is scheduled to be available in late 2013, and Level 4 will be published in 2014.

We will begin using Level 1 next week, replacing some of our MFW K phonics work. (There are a few MFW pages that I will leave out, but Alex really enjoys some of those, so we won't exclude them entirely.) I think we'll begin by aiming for 3 days a week, but we'll see what works best for us as we get started!

Of course, I will be blogging our way through All About Reading so that you can see for yourself what this program is all about!
Disclosure: We received a free copy of All About Reading Level 1 and the Interactive Kit in exchange for blogging our experience with the program. The links in this post are affiliate links, and I will receive a commission for each purchase made through these links.