It has often been on my mind lately that we need to make a real effort to teach our children good manners and habits. As my children grow, I recognize that they are picking up habits we don't always appreciate. We try to read stories that promote our values, and we try to set an example for our children in our actions each day. We're not perfect, though. We have character flaws, and so do our children. Character is something that our whole family needs to consider and PURPOSELY practice.


I've begun to desire something more to help my children pay attention to their behavior and work on improving their character. We were recently given the opportunity to use and review the Parenting Cards from We Choose Virtues, and we are finding that this is a terrific way for the children (and me!) to focus on scripture and character.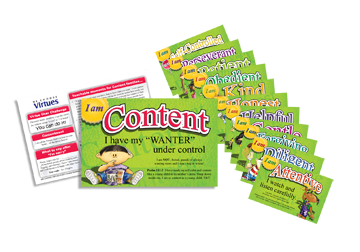 What Did We Receive?
We received the Parenting Cards that I previously mentioned, and we also received a download bundle containing the following items:
Kids of VirtueVille Coloring Book (PDF Download)

Family Character Assessment (PDF Download)

Teacher's Handbook (PDF Download)

Butterfly Awards for Kids (PDF Download)

Sing-Along-Song Sheets (PDF Download)
The download bundle comes with a PDF Teacher's Handbook designed for either classroom or home use. One Review Crew member suggested to check if your printer offers a "booklet mode" printing option. It will save you paper, and you will have a lovely double-sided booklet. This was such a WONDERFUL suggestion, and it made flipping through the parenting guide so easy!
The parenting cards include 12 character traits and are sturdy, double-sided cardstock pages. I did choose to laminate our parenting cards just to make them even more durable, but that certainly isn't necessary. We Choose Virtues has provided images of both the front and back of the CONTENT parenting card as an example for this review, which will give you a good idea of the information and activities you'll use with your children.
The front of each 8.5 x 5.5 card is bright and colorful, perfect for displaying throughout the week. It lists what the virtue IS, and the card also shares what the virtue ISN'T. After this, you'll find a Bible verse that matches up with the virtue.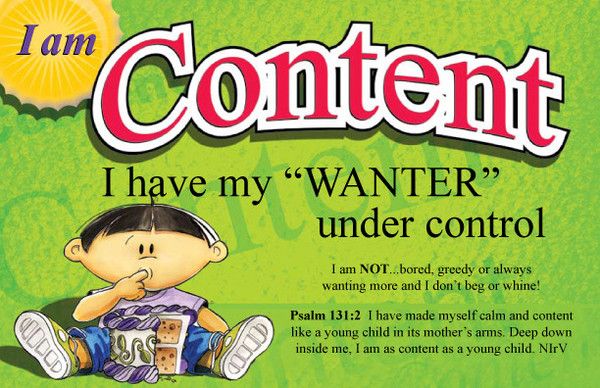 The back side of the virtue card offers a family challenge for the week, a story about the child on the front of the card, a few activities to add some 'life' to your current virtue, and some other ideas of ways to discuss the virtue together.
How Did Our Family Use We Choose Virtues?
I began by asking my boys, who are 6 and 4, to complete the Family Character Assessment provided in the download bundle. I decided that my daughter (3) was too young to understand how to evaluate herself with this form.

For the evaluation, I printed one sheet for each boy. Each virtue is printed on the page with a scale from 1 – 10. I would hold up the parenting card for a virtue, read the quick description and Bible verse on the front, and then ask my boys to choose where they thought their behavior in that area fell on the scale.

I was pleasantly surprise to find that, though they are young, my boys really seemed to put a lot of thought into their answers. They would think about it, circle it, think some more, and sometimes erase to choose a different number on the scale. They would explain to me the reason for their selection.



I didn't always agree with their choices, but I learned a lot about how they feel about themselves. Alex tended to be more negative – rating himself lower than I would have chosen for him. Max tended to be more positive, and a few times he rated himself higher on the scale than I would have chosen. When I think about their personalities, I can see how their attitudes influenced their selections.
On Monday, we begin a new virtue. Because this is the week when I took pictures, I will use KIND as my example, walking you through our Monday morning with the virtue of kindness.

The picture below shows some of the pages we worked with on this day. I'm showing the picture below now (which shows how we're displaying the virtue in our kitchen) as it shows you the coloring page (my 3 year old daughter's finished product) and the song sheet. This way, you can see what pages were are working with as I continue to describe our morning.
We began by giving each child a coloring page for the virtue of the week. So on this day, each child received a coloring page showing a picture of "Kettle Gretel". Then, after naming the virtue listed on the coloring page, I read them the front of the Kindness parenting card. We read what kindness IS and what kindness ISN'T. Then we read the Bible verse at the bottom of the page.
After reading the front of the card, I read them the short story about Kettle Gretel found on the back side of the card. After this, I set the card on the table so they could look at the front of it while they colored.
As they colored, I sang them the KIND song from the Sing-a-long-song Coloring Page. (I also colored the page so it would be bright and cheery to hang in our kitchen.) After singing the song twice, I asked the children to sing with me as they continued to color. I also challenged them (using the challenge on the back of the card) to secretly practice kindness throughout the week.

Once the children finished coloring, we displayed their finished products on the kitchen cabinets near our table. We also hung the parenting card and the song sheet so that we could see it often throughout the week.

Our goal is to read the front of the parenting card and sing the song each morning when we eat breakfast. This way, we are reminded each day of the virtue we are striving to practice throughout the day.
What Did We Think of We Choose Virtues?
I've heard wonderful things about We Choose Virtues on blogs and parenting forums in the past few years. I was excited to receive this review and give this program a try now that my children are old enough to understand.
Honestly, I was a little unsure of how to get started. It seemed like so little to work with, and I felt that the Teacher's Handbook was suited to classroom use rather than home educator use. Although the handbook did offer suggestions for home use as well, I'd like to see We Choose Virtues create a Home Educator's Handbook in addition to the Teacher's Handbook.

It took a little while for me to truly believe that what we'd received would be enough. I wasn't sure how to jump in and get started. When we finally did get started, I was pleasantly surprised to see that We Choose Virtues parenting cards and download bundle are MORE THAN ENOUGH to make the program fun and valuable for my children.
My kids were SO excited to learn the names of the children featured on each card. On the first day, after my boys completed the character assessment, my 6 year old happily flipped through each of the parenting cards, reading the virtue and the name of the child aloud for his 4 year old brother and 3 year old sister. They all sat at the table listening to big brother, very excited to learn about each child.

As they color the virtue coloring pages, my boys work very hard to match the exact colors on the parenting card. My boys don't always care to sit and color carefully, but they take these coloring pages very seriously. They really worked at doing their very best!

When Daddy came home on the night we'd completed our first coloring page, the children were VERY proud to tell Daddy all about Kettle Gretel and how she showed kindness to others by bringing them hot cocoa.

The character songs are easy to remember, and the cute names of the kids pictured on the cards are a good reminder to my children. It's so easy to say, "Are you showing kindness like Kettle Gretel?" or to sing the virtue song when my children need a gentle reminder to practice the character trait.
We are enjoying We Choose Virtues, and we will gladly continue to go through the Parenting Cards and virtues throughout the summer. Actually, since there are a total of 12 virtues, I think it would be terrific to go through these cards each summer as a 'refresher'!
Tell Me More…
We Choose Virtues Parenting Cards and Download Bundle are suitable for children ages 3 – 11. We received the NIrV Bible verse version with verses from both the Old Testament and New Testment , but they also offer a KJV version with scriptures from only the Old Testament so that it is suitable for either Jewish or Christian families. Both sets contain the same 12 virtues and activities; they just include different verses.

The Parenting Cards are available for $38.49, and the Download Bundle is available for $7.99. From now through August, you can use Promo Code BTS20 for 20% off anything in the We Choose Virtues store.

We Choose Virtues also offers a Youth Journal program for older children, suitable for ages 12 – 18. If you click on the link below, you'll be able to read reviews of both the Parenting Cards and Youth Journal.