One of my favorite things about being a mom is snuggling into a cozy chair with my kids to read a good book. Though I don't always stop what I'm doing when one of my children requests my attention, I will almost always take a little break from my tasks when I hear the words, "Will you read me this story?"
We recently reviewed two Peter Rabbit books from Kinder Kottage Publishing, and these have been a joy to read with the children! My children thoroughly enjoyed (and are still enjoying!) The Tale of Peter Rabbit and Peter Rabbit at the Farm.

Kinder Kottage Publishing is a family-owned company, publishing books that help children to appreciate their western culture and learn more about literature, history, culture, and faith. They have published this wonderful Peter Rabbit series, a Wizard of Oz series, and are currently working on a series of historical biographies for young children.
These books are tales of the same Peter Rabbit that you may remember reading as a child. (Do you remember that mischievous little rabbit, always trying to stay just out of the grasp of Mr. McGregor?) The stories in this collection were published by Henry Altimus Company more than ninety years ago, and Kinder Kottage Publishing has brought new life to this collection in bright, sturdy, hardcover storybooks.

Kinder Kottage Publishing recommends these books for children ages 3 – 9. We have children who are six, four, and three years old. These Peter Rabbit books appealed to all three children, and in the past six weeks, we have read the stories more times than I can possibly count. My three year old loves these stories so much that she often takes the books to bed with her so she can 'read' them as soon as she wakes! When I asked her if I could take a picture of her with her favorite Peter Rabbit book, she was happy to oblige:
As I mentioned above, we received two books to review. Kinder Kottage Publishing offers a total of ten books in their Peter Rabbit collection. We reviewed Book 1 and Book 2, but I'm pretty sure we also need to purchased the eight remaining stories. All three of my children would LOVE to have the full collection! (Who am I kidding? I want the rest of the books just as much as they do!)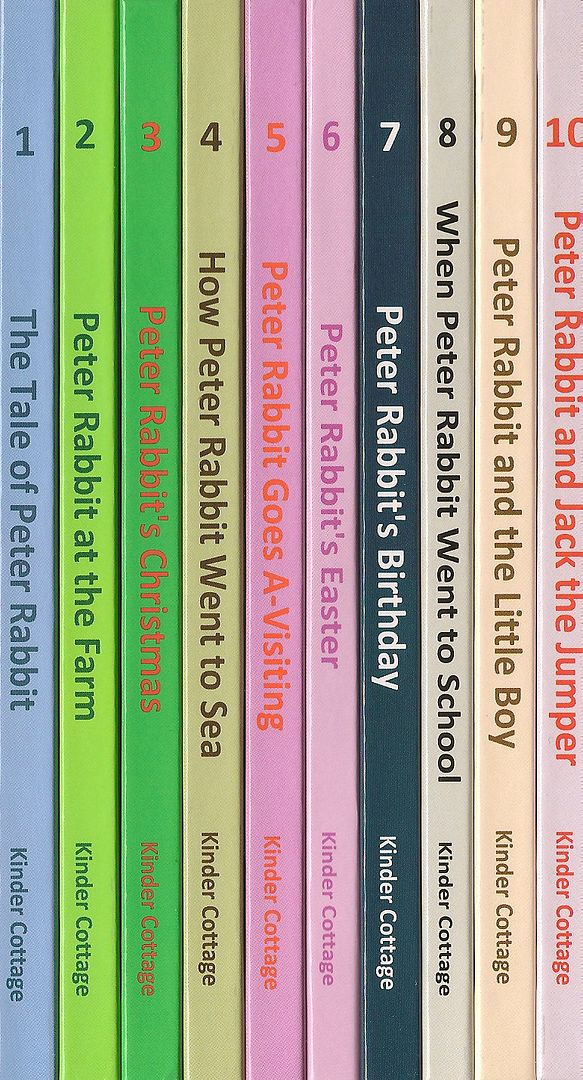 These books are about the size of a greeting card, which is perfect for little hands. Each book is around 60 pages. Since the stories are now public domain, Kinder Kottage was able to republish the stories and also modernize the text just a bit. (For example, the word 'bicycle' replaces the original word 'velocipede' to make the story relevant to young readers.)
My children loved looking at the beautiful, full color illustrations. I appreciate that the illustrations are the SAME as the original Henry Altimus versions from the early 1900s! It really is rather special to see how the stories that appealed to children almost a century ago can still be enjoyed today!
We read these stories together again and again, snuggled together with all three children on the couch. We giggled at the sheep jumping off of the hill, sympathized with a very wet Peter Rabbit when he hid in a full watering can, and cheered for Peter when he was able to help the geese refill their empty pond.

We read these stories at naptime, as my three year old settled into my lap for a little mommy time before falling asleep. We read these stories whenever a child crawled into my lap or tapped me on the leg to say, "Mommy, will you read this?"

And you know what? Even with repeating these stories over and over for weeks, I am still not tired of the tales of Peter Rabbit! There's just something so captivating about a classic children's story!

My oldest son, 6, is reading well enough that he is able to read the stories to his four year old brother. The text is written with plenty of white space between each line, which keeps the pages from appearing too busy or overwhelming to a young reader.
I'm sure that I've already made it abundantly clear, but we LOVE our new Peter Rabbit books and look forward to adding to our collection!
The books in this series are available for $4 each on the Kinder Kottage Publishing website. You may also purchase the complete set of ten books for $30. These would make a great gift for your own children or for a friend!

If you order soon, you may use coupon code TOS to receive 20% off of your order!
If you'd like to read what other Crew Members have to say about Kinder Kottage's Peter Rabbit series, click in the image below!

Special thanks for the wonderful family at
Kinder Kottage Publishing
for generously sharing these two wonderful books with our family!