Have you ever wished to be so immersed in a book that you actually felt as if you were really there? Our most recent review gave us the opportunity to do just that!




Our family has enjoyed listening to an audio drama from Wizzy Gizmo called "Audio Drama One: Who Created Everything?". This creative drama is based on the concept of a special machine, created in the laboratory of a man known around town as 'Wizzy Gizmo', that can place you inside of a book and make you a part of the story.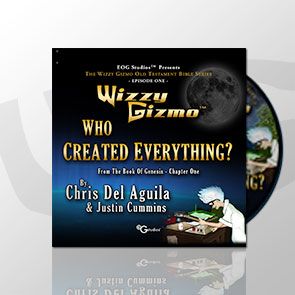 A young boy named Eli is new to the town of Sunnyville. As he meets new friends, the children introduce him to Wizzy Gizmo and take Eli to visit Wizzy's shop. Wizzy asks the children to try out his newest invention, Gizmovision. This special invention takes the children and Wizzy directly into the book of Genesis, where they fully experience the sights, sounds, and smells of the days of creation.

The drama itself is 36 minutes, but the Wizzy Gizmo CD also contains many musical tracks, which extend the running time of the CD by 24 minutes. The drama is short enough to hold the attention of my 3 year old, yet fun enough to captivate my almost-5 yr old and 6 year old.

I first listened to the CD in the car with Jensyn, my 3 year old, when she and I were out together one day. Only minutes into the drama, Jensyn had a big grin on her face. She was truly enjoying the CD! She commented, "I wish I could see the picture, mama!" I agree that a DVD would be a lot of fun!
The next time we listened was on a 4 hour drive to a campground. This was my boys' first experience with the CD, and they enjoyed it just as much as Jensyn. I heard an awful lot of giggles coming from the kids as they listened to the drama!

The Wizzy Gizmo drama is a wonderful blend of both Biblical truths and silliness. That might be hard to explain without listening for yourself, but my children are both learning and laughing while they enjoy this CD!

The Biblical truths shared in this drama are so good for kids to hear! I think it helped my children to gain a better understanding of what creation is all about. The children in the drama ask important questions that help listeners get a good grasp of the 'whys' and 'hows' of creation.

What's even better is that, though I know that my littles will not pick up all of the theological and Biblical knowledge in one listening, they are excited to listen to Wizzy Gizmo again and again! With each repeated listening, they will pick up on more details, and I love that!

Throughout the audio drama, the narrator shares verses directly from the Bible. In this way, the entire Biblical account of creation is shared straight from God's Word. The CD has a very strong Biblical base, yet shares the information through a fun and imaginative story that captivates young listeners.

The quirky characters found in the drama, Qwacky and Pepe, keep things light-hearted and fun. My kids loved the silly jokes and funny voices of these two characters, and they had lots of giggles as they listened to the CD. They especially love the "Mango Oh How I Love You!" song, and we've sung and danced to this many times.

At the end of the story, there's a "Giz Quiz" that asks questions about the story. It's a wonderful review of the drama you've just heard, and it helps to solidify the Biblical facts of the creation story.

After this, the next 7 tracks are songs. The first song, "Third Heaven", gives a great account of the days of creation. The song is appropriate for children, yet still appealing to adults. It's a beautiful, well-performed song. The remainder of the tracks are instrumental, and many, possibly all, of these tracks are the background music found throughout the audio drama. It's beautiful music, and very well done!

We felt that "Wizzy Gizmo: Who Created Everything?" was a very professionally made CD, and everyone in our family enjoyed this audio drama. It's great for passing time on a long car ride, and I think it will soon work its way into our boys' rotation of bedtime CDs. I love knowing that they are learning Biblical truths as they drift off to sleep at night!
Would you like to find out more? To hear Wizzy Gizmo for yourself, you can listen to samples of the CD by scrolling down at THIS LINK.

This wholesome, Biblical, family drama will provide entertainment for all ages. "Audio Drama One: Who Created Everything?" is recommended for ages 4 – 12. My 3 year old and I are both obviously outside of that suggested age range, but we both enjoyed it, as well, so I'd definitely consider it appropriate for the whole family!

Wizzy Gizmo "Audio Drama One: Who Created Everything?" is available for $14.99. By following the instructions on the website, you can save up to 10% by 'liking' and 'sharing' on social media sites.

Wizzy Gizmo also offers two Old Testament books: Who Created Everything? and In His Image, as well as a New Testament fact card set called "Fast Track Bible Pack". Along with our CD, we also received one Fast Track card for the book of Hebrews, and this looks like a GREAT Bible resource for elementary age and older. You can view a sample card for the book of Matthew on the Wizzy Gizmo website.

If you'd care to read more reviews of the Wizzy Gizmo audio drama or other products available from Wizzy Gizmo, please click here or on the image below.