Over the summer, we've had the chance to review three MP3 downloadable song sets from Happy Kids Songs. Each of the sets pictured below contains five songs designed to teach your children character, social, and emotional skills through music.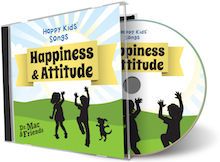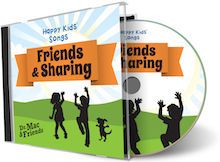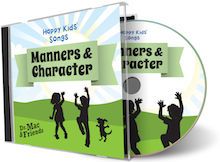 Friends & Sharing (Set 1)
Happiness & Attitude (Set 5)
Manners & Character (Set 6)
These cheery, upbeat songs encourage good manners, positive attitudes, and traits such as sharing, giving complements, and honesty. Since music is an amazing way to teach young children, these songs offer you a great opportunity to help your little learners commit these character lessons to their memory!

In our home, there are some songs we sing to help us remember when to clean, remind us to have a positive attitude, or encourage us to tell the truth, etc. Once you and your children have learned the Happy Kids Songs, you'll be able to start singing a song as a reminder of the character trait or attitude that needs to be encouraged in your home or classroom. Isn't reminding your children through music a much better option than nagging or scolding? We think so!

You and your children will enjoy songs such as:
Everybody Wants To Find A Friend (reaching out to others)

H-o-n-e-s-t-y (the value of honesty)

Shake It Out And Dance (from I can't to I can)
The song "Everybody Wants To Find A Friend" has particularly good lyrics for one of our children, who tends to be quiet and sit back rather than joining in with others to play. The lyrics encourage children to take that courageous step of asking someone to play:
Everybody wants to find a friend.
Just say hello. Let "another body" know
That you want to play with them again.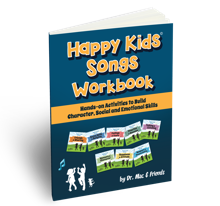 Along with our the song downloads, we also received a Happy Kids Songs workbook containing lesson plans, a song lyric page and an activity sheet for each of the 40 songs available from Happy Kids Song. This book is completely reproducible, making it suitable for classroom or co-op use.
The lyric pages have cheery black and white pictures to accompany the words. The activity pages vary in difficulty, with some being simple matching activities or coloring sheets and others containing word searches or crossword puzzles. When these activities are too challenging for your littlest learners, the song lyric pages will give them a great coloring page to work on while older learners complete the activity page.

The song lyric sheets and activity pages are also available for free if you subscribe to the newsletter. Once you've subscribed, you'll receive an email link where you can download a PDF file of the lyric sheets and activity pages for each album. (These free files do not contain all of the lesson plans/activities found in the workbook.)

Happy Kids Songs is designed for children ages 4 – 8, but both younger and slightly older children could also benefit from these songs and accompanying pages. We personally prefer a more Biblical approach to character education, but Happy Kids Songs would make a nice character education supplement for a co-op, daycare, preschool, or kindergarten class to focus on one song each week.

Song samples are available on the Happy Kids Songs website. This is a great way to check out the songs to see which songs or albums might be suitable for your kiddos!
Each of the eight downloadable MP3 albums is available on iTunes or Amazon for $4.95. There is also an option to buy individual songs for $0.99 each. CLICK HERE to view all available albums! (The workbook, which is a great addition, is available for $12.56.)

To read more Crew Reviews about Happy Kids Songs, CLICK HERE or on the image below.