Friends, let me just warn you: If you read this review, you're most likely going to be very tempted to purchase this product. It is SUCH a good DVD, and our whole family has enjoyed participating in this review!

We've just completed our review period for Amazing Science! - Volume 1 DVD from ScienceandMath.com, and it has been a treat to check out this DVD with the boys! Trust me – we'll continue to use this DVD regularly until we've completed all of the experiments! The children will not let me forget about it! It really captured my boys' attention, making science exciting and appealing.





From the moment we tore open the package and Alex (6) read the DVD case, he was BEGGING me to pop it in the DVD player. I told him we needed to wait until his little sister was down for her nap, and he held me to that. The moment I came out of her bedroom, Alex was waiting for me with the DVD in hand.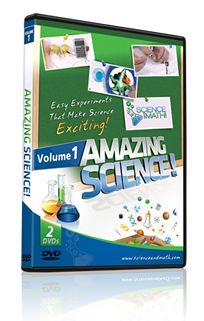 We slid it into the DVD player and sat down to watch the first experiment: Color-Changing Milk. I was pleased to see an image and list of the supplies needed to complete the experiment.
My two boys (ages 6 and 4.5) were so captivated that you couldn't pull their attention from the screen. You should have seen them squeal with delight when they saw this experiment in action!

Immediately, Alex asked me if we could try this experiment together. Of course, I said yes! I also told him we'd only do it if he would listen to the DVD to find out WHY this worked. He listened very carefully to the explanation.
We then moved to the kitchen, gathered our supplies, and gave it a try. We had a few variables (2% milk instead of the recommended whole milk, for example), but we were still able to get the same results as shown on the DVD. I then asked Alex to explain to me why this worked, and he was able to do so!
Another experiment that we REALLY enjoyed was the lemon battery. Even Daddy got involved in this one, and we had SO much fun together! Our lemon had as much power as our freshly charged rechargeable AA battery, which we found pretty impressive. We then experimented with lemons, batteries, and even our own hands. This turned into a really fun afternoon together!
Amazing Science! – Volume 1 contains two DVDs with a total of 23 fun, easy science experiments. Viewers will learn how to build a lemon battery, reverse an image with water, make a simple lava lamp, float an egg, and build a motor. We had no trouble recreating the experiments in our home, and most experiments used items that we already had on hand.

Mr. Jason Gibson of ScienceandMath.com explains each experiment in great detail, while still keeping it at a level that a 1st – 3rd grade child can easily understand. Each lesson provides a list of items needed to complete the experiment.

While the product is listed for children in the 1st – 3rd grade age group, both my 6 and 4.5 year old sons enjoyed watching the DVD and trying the experiments. My four year old probably didn't grasp all of the science knowledge, but he had a lot of fun! The best part is that, once we've completed the DVD, we can set it aside for a year and then have fun all over again!

I am very impressed with the Amazing Science DVD! If I could change just one thing, I would add a printed supply list in the DVD case for the convenience of gathering supplies before viewing the experiment. Beyond that, we have truly enjoyed viewing this DVD and exploring science together!

This DVD is currently on sale for $17.95, or you can also purchase an instant download for $14.99. (Prices are current as of 3/19/2014.)

If you'd like to see what other reviewers thought about the Amazing Science DVD (or if you'd like to read reviews on other products published by ScienceandMath.com), please click on the image below.