In case you haven't noticed it in the background of the pictures on Our Little Monkeys, I am not the most organized person on the planet. There's usually clutter on the counters, a pile of dishes in the sink, and a basket of laundry waiting to be folded.

This is not likely to change any time soon, if I'm honest. We're raising little ones, homeschooling, babysitting, and actively involved in church activities. A perfect house isn't high on my priority list – though I do occasionally dream of having everything beautiful and tidy! Still, I've been longing for something to keep me on task with cleaning and organizing activities. Perfection isn't necessary, but keeping things generally clean and tidy takes away a lot of stresses in a busy home!



In January, Motivated Moms offered me an ebook of my choosing in exchange for an honest review. I've spent the past several weeks reviewing a Motivated Moms eBook chore planner. The Motivated Moms eBook is available in full or half page, color or black & white, and with or without a daily Bible reading. You can opt for a page-a-day planner, or you can choose a planner with one page for the whole week.

I chose to review this half-sized chore planner, as I already had a perfect binder to store the pages! The half-sized option means it's not taking up a great deal of counter space or storage space, which also made this size appealing to me.

After receiving access to the ebook, I printed the pages. Then I used a paper trimmer to cut the pages down the middle. After punching the holes and sliding them into the binder, I was ready to go!

The print is quite small on the half-size chore planner, but Motivated Moms website gives you the opportunity to view and print a sample. This way, you can see for yourself if the small size will work for you before you commit to purchasing the ebook.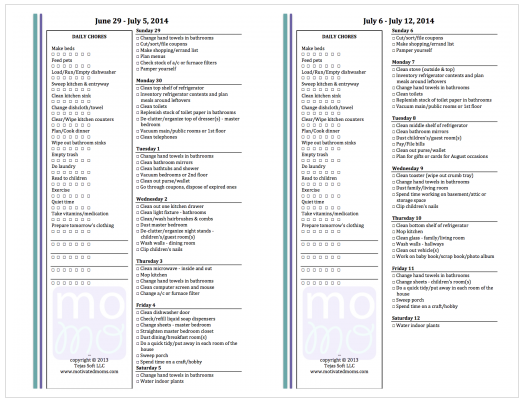 On the left side of each weekly page, you'll find a list of daily chores. Under each chore, there are seven small checkboxes – one for each day of the week - to check off the chores as you complete them. Daily chores include tasks such as making beds, feeding pets, planning dinner, reading to children, wiping bathroom sinks, and taking vitamins. There are also four lines on which you can list your own daily tasks.

On the right side of the page, you'll find specific activities for each day of the week. In general, the weekends have a lighter chore list, leaving the majority of the chores for Monday through Friday. The daily chores are listed with the day and the date. Some tasks repeat each week, such as menu planning, watering plants, making a shopping list, and coupon sorting. Other tasks come up less often, such as changing a furnace filter, cleaning light fixtures, or organizing your pantry. Most tasks come around once every few weeks. Some are typical household chores like cleaning bathroom mirrors, vacuuming the living room, dusting bedrooms, etc. Others are chores that are easier to overlook – tasks such as cleaning the toaster crumb tray, planning ahead for card or gift purchases for the following month, or cleaning up the computer hard drive.

I appreciate that the planner schedules 'mom time' each week. Every Friday includes "spend time on a craft or hobby", and every Sunday's chore list includes "pamper yourself".

Getting started was a bit tricky. I had to laugh as I tried to do the first week that I printed because I'd already done almost every task the previous week! Within a few weeks, though, you can get 'on track' and the plans became easier to follow since the chores rotate regularly.

Do I manage to follow the Motivated Moms ebook perfectly? Uh, no. No, I didn't. Being locked into a set plan doesn't always work in a busy home, and that's okay. It's not hard to mentally adjust your planner use, making the Motivated Moms plan work for you. A planner cannot understand that Mondays are CRAZY at our house, and I do not have time for major chores. This is exactly why I opted for the week-on-one-page ebook. These are things you can easily work around if everything for the week is on one page – I can simply skip something that's not vital, and then I can finish checking off the boxes on Tuesday when we have a much lighter schedule.

Occasionally, I'd come across a week where the chores didn't line up quite right with the way my brain works. For example, one Sunday's chores included "plan menus" and Monday's chores suggested to "inventory refrigerator and plan meals around leftovers". This would change my menu plan from Sunday, so I suggest glancing through a week on the planner before completing the tasks – just in case you see something that doesn't work for you.

This is just my own personal opinion, but I wish that Sunday did not have a list of chores. Obviously, some tasks must be completed on Sunday – families still eat, use dishes, take medications, etc. Sunday also has a 'pamper yourself' chore that is completely appropriate. Still, I'd prefer Sunday to be free from extra chores like changing hand towels or checking my stock of furnace filters, and I wish there was an ebook option that scheduled additional cleaning tasks from Monday through Saturday. (That can be easily solved with the current planner by working ahead to do the Sunday tasks on Saturday, but you'll be flipping ahead one page in your planner to do this.)

Overall, though, Motivated Moms is a GREAT resource for keeping a mom on-task and helping your household to run in a much more organized manner. I am grateful for the opportunity to review the Motivated Moms ebook, and I look forward to making use of this planner throughout the remainder of the
year.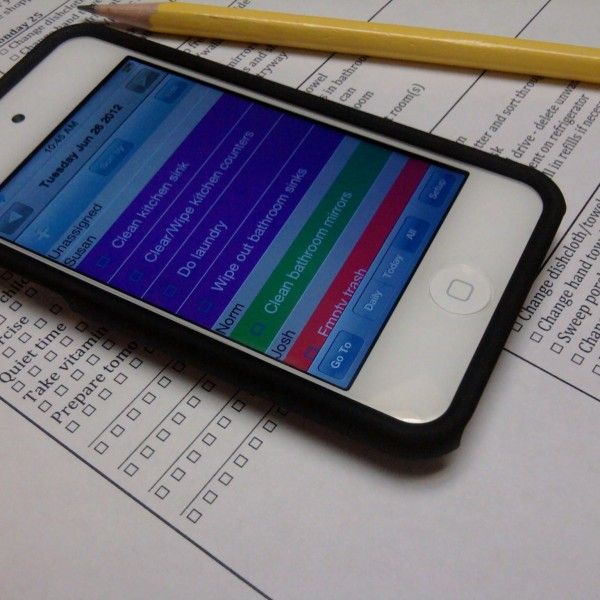 Motivated Moms offers both apps and printable ebooks. Each ebook is available for $8. If you feel that you'd follow a plan on your phone, iPad, or tablet, you may want to check out the TOS Crew review for the iOS app. The iOS app is available for $7.99/year or 99 cents per month, or you may also purchase the Android app (via Amazon or Google Play) for $7.99/year.
CLICK HERE or on the link below to read reviews from other TOS Crew Members.