Are your homeschool days dragging? Are you and the kids feeling 'stuck in a rut'? Do you just need something fun for a rainy day? Our latest product review is one EXCELLENT solution that adds some excitement to your day!

We have really enjoyed the opportunity to review Clued In Kids treasure hunts. The kids and I received the Soccer Treasure Hunt and the Thanksgiving Treasure Hunt in PDF form. These easy-to-use treasure hunts get all of your kids excited about working together, finding the clues, and discovering the prize at the end.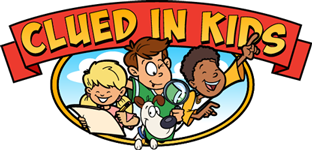 Clued In Kids offers a wonderful variety of treasure hunts in book form (called "Clue Pads") or downloadable PDF. Most are suitable for ages four and older, but the treasure hunts are designed to work with kids of multiple ages. The hunts feature fun clues, ranging from easy enough for a four year old to challenging enough for an older elementary student.
To understand how the Clued In Kids Treasure Hunts work, please take a few moments to watch this short video:


Now that you've had a chance to see what it's all about, I'll walk you through our Soccer Treasure Hunt. I downloaded and printed the hunt (which is eight pages of printing, if you're curious). I then looked through the clues, assigned a child to each clue (depending on the skill level required), and cut each page in half. (If we had received a clue pad, we'd skip the printing and cutting steps…we'd simply remove the pages from the clue pad, assign the tasks, and hide the clues.)




After sending the kids to play upstairs for a little while, I followed the instructions to hide the clues throughout the house.

That's when the fun begins! I called down the kids, handed them the first clue, and Max worked to solve it. Once they had the answer, they were off to find Clue #2. Since pictures will help you get a feel for their excitement, scroll through these images to see how a Clued In Kids Treasure Hunt works.
receiving the first clue

Max (5) solving a clue



all three kids looking on as Max solves the clue



Alex (almost 7) read the answer for Max



Max (5) found the next clue by the pasta in our pantry cabinet



Alex, with Mom's (and Google's!)help, solves the soccer-themed trivia clues
We both learned that a soccer field is also called a 'pitch'!



A clue in the grill?! That made everyone giggle!



Jensyn (3) folded her clue to find that she should go look in her bed!



on to the silverware drawer…



I love that I can assign the clues to the children,
as this clue was PERFECT for my soccer-lovin' Max!
He had to dribble the soccer ball and shout "woo who" to receive the next clue!



reading a backwards clue in the bathroom mirror…



Showing off our 'treasure' – popcorn and fruit snacks for all!

What you can't see if the SQUEALS of excitement as they ran to the next clue, and I completely missed capturing my five year old's giggles as he pulled popcorn and fruit snacks (our 'treasure') out of his SHOES.

The kids absolutely LOVED this treasure hunt, and they were excited to do the Thanksgiving Treasure Hunt, as well. (Yep, when you review, you sometimes have to do things at unusual times of year! But it's still fun!)

What I really appreciated about Clued In Kids Treasure Hunts (besides the simple set-up and the FUN activity) is that there are lots of learning activities throughout the hunt. Hunts include fun facts, math, spelling, handwriting practice, and so much more. Kids don't even realize they are learning, as they're having such a great time!

I also loved that the activities covered a wide age range; that way, I could assign clues to each child based on their ability level. It was such a fun way to get the kids working together without fighting! (I will say that a few clues were still pretty challenging for my oldest, who is almost 7. I had to offer him some assistance, so if you have younger kids, be prepared to help from time to time.)
Clued In Kids Treasure Hunts are available for $5.99 in PDF form, and Clue Books are available for $8.99. You can choose from a wide variety of themes – princess, sports, holiday, seasonal, and even a gluten-free hunt and a "Happy Tummies" hunt for children with food sensitivities or allergies.

Wouldn't these hunts make a fun Christmas gift? THIS POST, on the Clued In Kids blog, will share with you all of the Christmas options available from Clued In Kids. You'll also find out how to get a free treasure chest with your order!
If you're interested in trying a Clued In Kids treasure hunt with your family, you can currently receive a FREE TREASURE HUNT by signing up for the Clued In Kids newsletter. After signing up, you'll receive a free downloadable Homework Treasure Hunt.

To read about other reviewer families and their fun with the Clued In Kids Treasure Hunts, please click on the link below.