I am honored and excited to say that I have recently been accepted to
The Old Schoolhouse Magazine's
Review Crew! This means that all throughout 2014, I will have the opportunity to use and review a variety of homeschool products and curricula. I'm looking forward to this experience, and I hope that my readers will benefit from learning about these products as well.
There's so much to offer that it was difficult to decide what we could try during the review period! We settled on:

Schoolhouse Planners
One of the first things to catch my eye was the Schoolhouse Planners. We currently do not use a planner, but this will become a necessity as we begin to juggle the lessons of multiple children. I can't imagine a more helpful planner than the Schoolhouse Planners!
The Schoolhouse Planners (which are available for $9.95 – $39, depending on the planner) are downloadable PDF files. With a
SchoolhouseTeachers.com
membership, you'll have access to download all of these planners for FREE!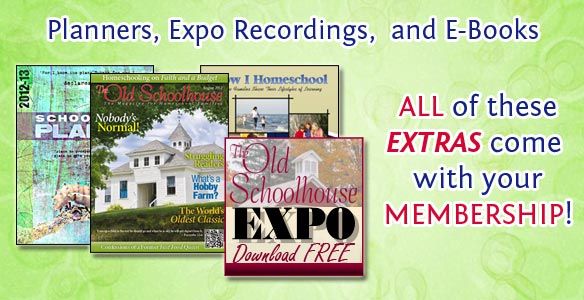 These planners contain editable PDF files of calendars and planning pages, which means you can type directly into the planner! I like the simplicity of sitting down, typing out our plans for the week, and printing out a neatly typed copy. (There is also an option to print with lines in each daily box, so that you can handwrite your plans.)
I took a close look at the Primary Schoolhouse Planner, which is packed full of resources like math games, activities to learn about oceans and continents, story starters to spark your child's writing, a list of Caldecott books, a timeline of the life of Jesus, and much more!
There are also pages to journal your child's first and last day of school, attendance charts to track your number of school days, a page to document books read during the school year, a Bible memorization page, a field trip log, handwriting practice pages, blank journal pages, book report pages, chore charts, and the list goes on – it's simply too much to list! That's only the primary planner; just imagine all the resources you'll find in the full "Big Mama" planner!

Homegrown Preschool
Homegrown Preschool was the next section to really draw my attention. Each month contains fun, hands-on lessons that are just perfect for young children! There are SO many activities that you can keep your preschoolers having fun all month long! There are neat activities, messy activities, and everything in between. Just about any mom could find activities here for encouraging her little ones to explore, learn, and play.

We made peppermint scented play dough, forming Christmas tree shapes and decorating them with small jewels. Afterwards, I set the kids loose to make their own creations with our Christmas cookie cutters. This occupied my kiddos for well over an hour!

We again pulled out the cookie cutters after making the cinnamon ornament dough. Your house will smell GREAT (and so will your kids, ha!) after you've done this fun project! These also make nice gifts for neighbors and extended family.

We used dice and this adorable gingerbread printable to play a fun math game. Both of my boys LOVED this game, and I was so glad to be introduced to a fun new way to practice math facts! I jumped right in and played this game with the boys, and we had SUCH fun together!

As you can see, the Homegrown Preschool plans gave us plenty of ways to keep busy and learn together as we wait for Christmas to arrive!
Schoolhouse Preschool – "Read and Play" section
We enjoyed a fun day with friends doing activities from the Luke 2 "Read and Play". We read Luke 2 from a children's Bible, learned all about the shepherds, did some fun shepherd activities pages, and made sheep cupcakes.

What else?
We thoroughly enjoyed the preschool plans, as it was a fun way to explore the site with all three of our children. I'm also aware that many of my blog readers are moms of preschoolers, so it only made sense to bring this fun site to your attention!
There's so much to offer for ALL ages at
SchoolhouseTeachers.com
, though! If you have older children, you will find that SchoolhouseTeachers.com offers plenty of activities and lessons to meet their needs. (As a matter of fact, I found myself a little disappointed that we weren't able to try some of the older child resources. They look amazing!) You'll have no trouble finding activities that will keep them your older children actively learning!
Across the top of the website, you'll find tabs to help you easily explore their well-organized site. This will help you find parent resources, preschool and elementary activities and lesson plans, middle and high school activities and lesson plans, extras, family resources, an an archives section.

There is a "Tinkers Club" (for elementary through high school) that is currently exploring cars and motors, and the plans also have your children building a small motorized car! For older children, there is an option to study internal combustion engines. Wouldn't that be fun to capture the interest of a reluctant learner?!
For the middle and high school years, SchoolhouseTeachers.com offers lessons in all subject areas including French, trigonometry, mock trial, chemistry, and classics based writing. There are 44 different areas available for this age group!
Elementary and middle school children will enjoy the "Hooked On Science" activities that are shared each Wednesday. As I browsed through the archives, I found fun projects like sinkhole science, teabag rocket, homemade light bulb, and turkey baster ping pong ball launcher. Wow, what fun!
There is a monthly nature study for families, with activity options for both warm and cold climates. I often struggle with WHAT we can do outside to explore nature in our own yard or at the park. This resource could be very beneficial!
You'll also find a discount section offering coupon codes for many homeschool products, such as Fundanoodle, Kinderbach, and Institute for Excellence In Writing.
I cannot even begin to list all of what you'll find at
SchoolhouseTeachers.com
! I will say that it is just FULL of learning opportunities for students of all ages, and it's also full of resources for parents!

Have I peaked your interest?