My children and I have started to notice the first signs of the Christmas season appearing in local stores. The holiday catalogs are finding their way to our mailbox. The kids are beginning to ask, "When will it be Christmas?" Ready or not, Christmas will be here before we know it! It's time to prepare the house – and, more importantly, our hearts – for the Christmas season!
One thing that my children & I truly enjoy at this time of year is bringing out our stack of Christmas books, reading a few of them together each day during the month of December. We have traditional classics, silly stories, and beautiful Christ-centered Christmas books. I try to find a few new ones each year. This year, we've added a new book to our collection, and it's sure to be read often in our home! It is called If He Had Not Come, and this thought-provoking tale has been brought to life for a new generation by David Nicholson.

David Nicholson first heard this story almost thirty years ago in an adult Sunday School class, and the story has stayed with him ever since. He shared it with his family each year at Christmas time, and he felt led to republish this story. It's been 55 years since If He Had Not Come has been in print!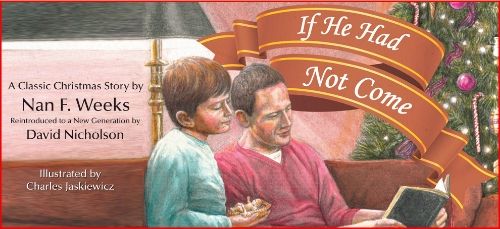 This beautifully illustrated tale shares the story of a little boy, reading the Bible with his dad on Christmas Eve and focusing in on the words of John 15:22. "If I had not come…", the verse reads. The little boy goes to sleep with these words heavy on his heart, and he wakes to discover what Christmas would be like if Jesus had not come. The story is simple, yet complex, all at the same time.

The church is now a vacant lot. The hospitals and homeless shelters have disappeared. The Christmas decorations are gone. People are grumpy and rude. There seems to be no hope, no joy. The Bible ends with the Old Testament. It's a bleak picture. And on each page, we see the words, "If I Had Not Come…".
But it doesn't end there, of course! The story comes to a close with the little boy waking up in his own bed, hearing Christmas carols and celebrating that Jesus DID come! His dream is a vivid reminder of what Christmas is REALLY all about!
When our package arrived in the mail, Jensyn (3) was the first to notice that I was opening a new book. Our little book lover immediately reached for the book and ran to the big, comfy chair to wait for me. I read it to her without hesitation, but knowing that the book is intended for children ages 6 and up. She sat and listened to every word, but at three years old, she didn't get the full value of the story.

Several days later, I read the book to all three of our children. It was interesting to notice how each child reacted to the story at their own level. Alex (6) and Max (5) seemed to understand the story quite well, and Jensyn (3) enjoyed hearing it again. The children were caught up in the story, waiting to see how it would end.

Jensyn was quick to point out when the Christmas tree disappeared, and she is able to make the connection that no Jesus means no Christmas. Max listened intently, but he didn't have much to say while I read. He simply took it all in. Alex frequently pointed out details he noticed on the pages, and he commented on several pages throughout the story. Several times throughout the story, Alex said, "But this is just a dream, right? He's just dreaming, isn't he?"

After we read, the children wanted to flip through the pages again to look at the illustrations. All three children pointed out details in the pictures. Then I took the book back, flipped to the discussion questions in the back, and picked out a few questions for a casual discussion with my kiddos.
Some of the questions are a little too detailed for my young ones, but it was fun to choose a few to which they could related. For example, "Put yourself in Bobby's place as he walked into his living room…" or "When you hear someone calling for you to get up on Christmas morning, what's the first thing that comes to your mind?" These questions led to some interesting discussion! (Max, who had been quiet during the story reading, was vocal now!)
As we enjoy re-reading this book - throughout the season and throughout the years – the discussion questions will become more interesting as my children grow. This is definitely a book that will be read often this year and in the years to come. We are so blessed that Mr. Nicholson has shared his book with our family!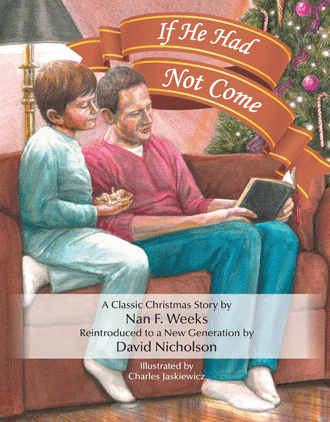 The illustrations in this book are simply beautiful, the story is captivating and thought-provoking, and it is wonderful reminder of what Christmas is truly all about. If you are looking for a new book to read with your children in this Christmas season, I would highly recommend If He Had Not Come.

If He Had Not Come is best suited for children age 6 and up, but this story is a wonderful tale for all ages. This 8.5x11" book is 40 pages in length. This book is available here in hardcover for $18.95 or ebook format for $3.99.

It would make a wonderful Christmas gift for your own children, friends, or grandchildren. I can imagine this book being shared in a Sunday School class or Children's Church program for elementary-aged kids.

Click on the image below to read the thoughts and experiences of other reviewers and their children as they read this marvelous Christmas tale!