If you've researched homeschool curriculum for your own family, then you are well aware that there are an abundance of phonics programs available for young learners. Making a decision on what to use as you get started with your children can be absolutely overwhelming!

Our family has examined or reviewed quite a few programs in the past few years, and we've settled on one that works well for my oldest son. My middle child (4.5) is at the point where he is starting to show some interest in letters and sounds, yet he is a very, VERY active child. I knew he couldn't start out the same way that big brother did, and I was grateful for the opportunity to try Logic of English Foundations, Level A with Max.

The Foundations series, designed for 4 – 7 year olds, covers phonics, reading, spelling and handwriting skills. Foundations Level A contains 39 lessons and 1 'celebration day' to end the program. (There are also 'review lessons' scheduled throughout the manual, which are not included in the numbers of lessons listed above.)

Level A begins by teaching children how sounds are formed, how sounds can be put together to make words, and the basic strokes for handwriting (in your choice of cursive or manuscript). As the lessons continue, students will learn phonograms (written letter/sound), handwriting of lowercase letters, compound words, syllables, blending sounds into consonant-vowel-consonant words, and identifying phonograms and vowels within words. This is all done with a creative, tactile flair that makes learning fun even for an energetic little learner!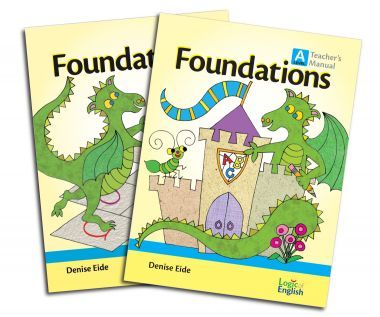 Thanks to the generosity of Logic of English, we received the following items for review:

Foundations, Level A – $71
Teacher's Manual

Student Workbook

Basic Phonogram Flash Cards

2 sets of Phonogram Game Cards

Manuscript Tactile Cards

Manuscript Handwriting Quick Reference

Half-Size Student Whiteboard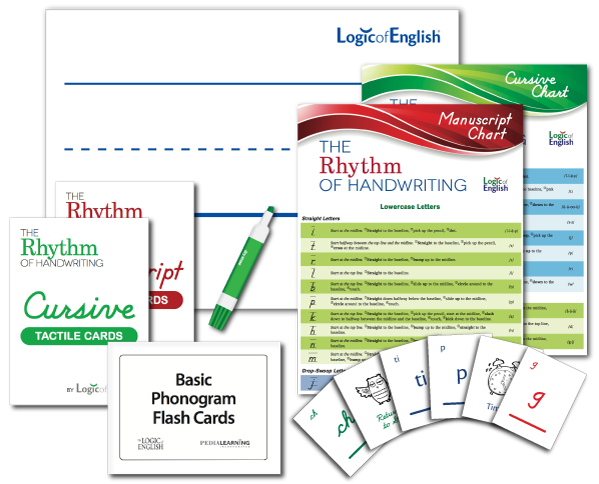 When we received our package, the Doodling Dragons book was the first thing to catch four year old Max's eye. Jensyn (my three year old) had to get in on the fun of this book, too. It wasn't long before my six year old had to join us, as well! All three kids loved exploring the pictures in this book, and the silly sentences and phrases that accompany the pictures made them giggle! (I won't ruin the fun, but the page for the letter "U" is a favorite for all three children.) I love how the book gently teaches letters and sounds, while still entertaining children.


I found myself a little overwhelmed at the thought of getting started with Foundations Level A. It's really quite simple, as it is laid out step by step in the teacher's manual, but I got worked up at the thought of beginning with my four year old son. Even though I believed he was ready, I was suddenly questioning if Max could do it. At that point, he recognized uppercase letters, but hadn't mastered lowercase letters. It took a few days of staring at the beautiful stack of books to mentally prepare myself to get started with Max.

By the end of our first lesson, I knew this was a great fit for him! First off, his high energy personality has met its match: Foundations Level A lessons are packed full of opportunities to wiggle! Secondly, Max has some speech struggles, and the early lessons offer a great deal of practice in HOW sounds are made. This was just perfect for him, as one of my fears for Max with phonics was that his pronunciation of sounds might affect his ability to pick up on basic phonics. Logic of English Foundations Level A took away some of my fears, as it teaches children hands-on ways to explore how the letter sounds are made.

We 'popped' our mouths as we made the /p/ sound, felt our throats buzz while making the /v/ sound, and blew out air as we made the/f/ sound. My little tactile learner thought these activities were great fun, and he thought we were playing games rather than doing lessons!

Max loves the compound word activities where he's blending two words to make one. (I would slowly say "pop………corn", and Max would shout out "POPCORN!") He begged for this game every day! Circling the correct picture in the workbook was a great joy for him, too. He truly enjoyed having his own, colorful workbook!
As for handwriting, Max has never written on lines before. He has written adorable, wobbly letters across a piece of paper, but Logic of English Foundations Level A is his first experience with handwriting lines. We found that the lines in the workbook were too small for Max, but he loves the giant writing lines on the white board. We've ended up using this board for all of Max's handwriting practice. (I love the white board! It's super sturdy, has large handwriting lines on one side, and has smaller lines on the reverse side. It's a very well-loved, well-used board in our home!)

Logic of English handwriting does a great job of teaching the handwriting lines and the strokes needed to form letters. I'm really impressed at how well Max is able to follow the handwriting lines to form letters that are correctly sized!
practicing his 'swing stroke'
Review Lesson A (after Lesson 5) Handwriting Assessment

To make the handwriting assessment more fun and multi-sensory, children are encouraged to add a block to a tower each time they correctly write a stroke in the handwriting review. When the assessment is completed, the child gets to knock down their tower. My energetic Maxwell thought this was great fun!
contemplating where he'll place the next block…
I tend to lean toward a more traditional handwriting approach, so I was a little skeptical of the handwriting style. I must admit, though, that the Logic of English approach is very helpful for Max! With the tactile letter cards (sandpaper feel) for tracing the letters, the learning of handwriting strokes in preparation for writing letters, and the way the handwriting is worked into the Foundations lessons, it all fits together so nicely. Max is doing well with it, so we will continue with using these handwriting lessons!
Another lesson activity that my kinesthetic little learner truly enjoyed was found starting in Lesson 6, where I would slowly pronounce the sounds in common action words, then Max would shout out the word and act it out. For example, I would slowly draw out the word as I spoke, saying /j-u-m-p/, and Max would have to mentally put together the sounds to recognize the word 'jump'. He would call out the word and then act it out. He would have done this ALL DAY, I believe! This is TERRIFIC practice for learning to blend words on his own as he begins to read!

We've used a stuffed animal to shoot baskets in a laundry basket, spun in circles, collected crackers, and done all sorts of other fun activities that leave Max feeling as if he is playing game rather than doing school work. It really is a lot of fun for both Max and Mama! (My six year old is more than a little jealous when I'm 'doing school' with Max!)


We've only completed the first ten lessons, although I look forward to working through all 40 lessons of Level A with Max. As Max is still focusing on recognition of some lowercase letters, we are taking our time as we go through these lessons, just a bit each day and repeating as necessary. I want to make sure he is SOLID in his letter recognition before we go too far, too fast and leave him frustrated.

Logic of English actually makes it easy to stretch out each lesson, as they provide SO MANY multi-sensory activities within the lessons! We can write letters with sidewalk chalk, call out a letter sound, and Max can jump on the letter that matches the sound. We can have a 'g day' where we learn about animals beginning with the letter g, eat foods that begin with g, make gifts for grandparents, and other g activities. We can hunt for the letter d on signs, in books, or around the house. We can write the letter a in a box of salt, drive a toy car in the shape of a handwriting stroke, etc. I've already mentioned it more than once, but these hands-on elements really are perfect for a wiggly, young learner!

Even though we are going through this program at a fairly slow pace, I am noticing that Max is more attentive to letters in everyday life. He is bringing up letter sounds in conversation. He is beginning to recognize the letters and sounds all around him – and this is a big step in learning to read!

I look forward to some of the later lessons in the book, when we'll get to use the little readers booklets in the back of the student workbook. The animal photographs in these books are so cute, and I know that Max will love them!
All pictures in this post were taken during Review Lesson A. I'm usually really good about getting pictures during our school work, but Foundations A is such a hands-on program that I've been forgetting all about the camera and just focusing on having fun with my boy! I finally grabbed the camera during the Review Lesson to snap some pictures for this review…and then promptly returned to NOT taking pictures so I could just enjoy the fun of LOE with Max!

If you are looking for a playful, yet very thorough, way to introduce your child to phonics and handwriting, you will definitely want to take a close look at Logic of English Foundations Level A! To read more reviewers opinions of Logic of English, please click on the graphic below: