Alex (6) has been reading pretty fluently for quite some time now. I've debated on when to start a spelling program with him, and I have also really questioned what type of spelling program we would utilize.

When I saw that Spelling You See was on the upcoming review list, I was very intrigued. Math U See is such a popular program that I just *knew* a spelling program from Demme Learning would be worth consideration! We are pleased to share with you our review of Spelling You See: Listen and Write (Level A).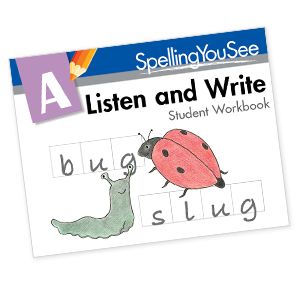 You likely grew up with a weekly list of spelling words to memorize, print on a Friday test, and then move on to a new group of words the following week. While this method works for some children, rote memorization and phonics rules are not necessarily the most effective ways to become a good speller.

Dr. Karen Holinga, who developed Spelling You See, spent over a decade researching and tutoring to develop this program. Spelling You See is designed to use writing and visual memory to teach correct spelling.

Spelling You See is based on skill level rather than grade level. Five levels of Spelling You See take children from the 'Preliterate' stage, in which children are just beginning to understand letters and their sounds, through the 'Derivational Constancy' stage, in which students learn about word roots from other languages.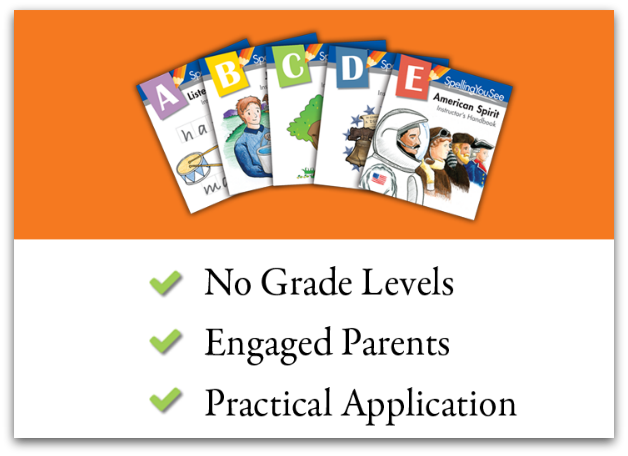 I applied to review either Level A or Level B, as Alex falls somewhere in the middle of these two level descriptions. I'm glad to say that we have been blessed with a review copy of Spelling You See: Listen and Write (Level A)! Although the beginning of Level A is quite easy for Alex, I've actually appreciated the opportunity to start from the beginning.
We received a PDF file of the student book and instructor's handbook to start our review period right away, and we began immediately after printing the first several weeks of lessons. When the printed books became available, we also received a physical copy of Listen and Write, along with stickers, a laminated handwriting guide, and an instructor's handbook. (Please note: the Spelling You See books are not available in PDF format; reviewers received this format because the printed books were not yet available.)

After browsing through the instructor's handbook, it was obvious that Spelling You See would be very simple to implement. I'd been a little nervous about how much time would be required when we started a spelling program, so I was thankful to read that Spelling You See limits you to around ten minutes per day. Now that I can handle!
The instructor's handbook has clear instructions for getting started, and the child has only a few lines of work to complete. It took only a short time to understand how the program works, and then we were ready to go. Or, at least, *I* was ready to go.

Surprisingly, Alex's first reaction to this program was complete resistance. He is normally a very calm, easy-going child. I've never before seen him resist like this during our school time. After a few days, I was really unsure how we would complete this review if it was turning into a daily battle. It baffled me, as he was more than capable of doing the small amount of work required in the early lessons of this book.
After pushing through several lessons, I began to realize Alex's issue was not with the program itself, but with the handwriting style shown in the book. A few of the letters are made differently than Alex was taught, and this really bothered my little perfectionist. I encouraged him to write in his typical handwriting, and suddenly the battles ended. He calmly did each day's work without issue. Phew! Problem solved!
With that said, Spelling You See does have a reason for their handwriting choice. Each letter is designed to be written in one stroke, without ever lifting the pencil from the page. The student pack comes with a sturdy, laminated handwriting guide as a reference for your child.

At the IAHE homeschool convention, I was able to hear Dr. Holinga speak and I was able to ask questions of a representative from the company. The representative kindly answered my questions, explaining that Spelling You See is not intended to be a handwriting program. The lettering style was chosen so that children can write each letter easily, making the correct spelling the main focus of the program. She confirmed that, if handwriting was causing my son a struggle, it was best to allow him to continue writing in his typical writing style.



Spelling You See: Listen and Write (Level A) contains 36 lessons, with 5 pages per unit. If your child completes one page per day, he can complete the program in one school year. Each day, students will trace letters, write dictated words, and read aloud the words they have written. The early weeks include handwriting practice and word boxes for tracing and then copying three three-letter words that you dictate to your student. After the first three units, students move on to writing six three-letter words.



As students progress through the book, the handwriting practice is gradually eliminated, and students have twelve dictation words each day. The instructor's guide suggests timing your student beginning in Unit 10, as timing can encourage some children to learn to pace themselves as they work. This is optional, but I can see how this would be helpful for my Alex. Whether or not you set a timer is up to you, as the parent, but the guide does encourage you to keep track of time and stop your child after 10 minutes, whether or not the day's work is completed. Then simply begin with a new page on the next day.



We've come to truly appreciate this time in our school day, and we will continue to use Spelling You See: Listen and Write for the remainder of Alex's kindergarten year. (After hearing Dr. Holinga speak at the IAHE homeschool convention, I am very impressed with the future years of the program as well. It is very likely we will continue to use Spelling You See for future years, as her words really resonated with me! This is definitely a solid, research-backed program!)



Spelling You See: Listen and Write (Level A) student pack is available for $20, and the Instructor's Guide is $14. The student pack contains the student workbook, sticker pack, and handwriting guide.

If you have further questions about Spelling You See, you will definitely appreciate the FAQ section on the Spelling You See website. It's full of wonderful information that will help you understand this wonderful new program.
To read reviews from other crew members, please click on the image below!